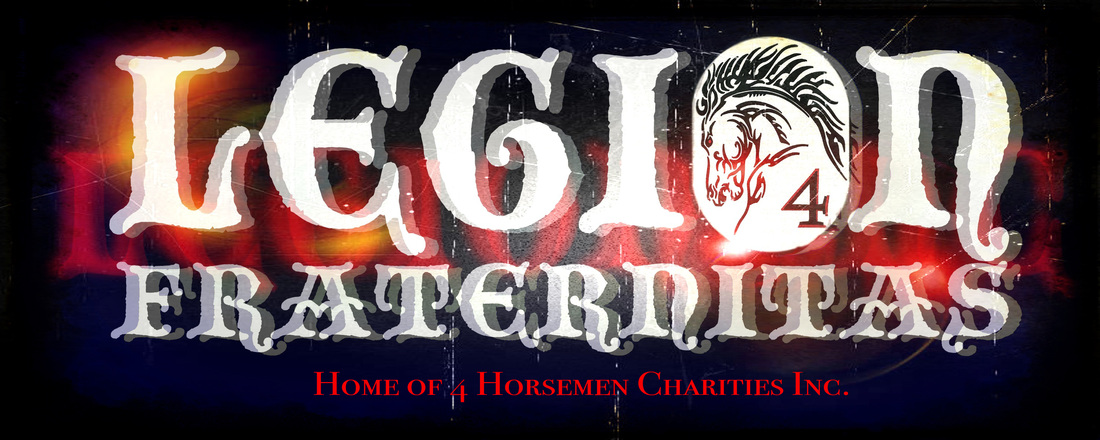 WOUNDED WARRIOR RIDE and FUNDRAISER

24 thousand donated.
at the Woodstock Inn

Come out for a GREAT cause!
Wounded Warrior Project® (WWP) serves veterans and service members who incurred a physical or mental injury, illness, or wound, co-incident to their military service on or after September 11, 2001 and their families. On that date, America watched in horror as approximately 3,000 people died including hundreds of firefighters and rescue workers. Many warriors note a sense of duty to volunteer for the military following these tragic events.
http://www.woundedwarriorproject.org/
---
The Day's Schedule
9am-10:30am Registration will begin. Check in, get your t-shirt (if you are preregistered) and eat some breakfast!
Check out all the raffle and silent auction items. Place a bid or buy some raffle tickets. (most Items are listed below)

10:40 Pre- ride Briefing (in the parking lot)
11:00 The ride is KSU for a some great back roads in Howard and Baltimore Counties.
1:00 pm The ride returns and the 1st band will start to play. (see band schedule below)
1:00-6:00 Raffle drawings, 50/50's and silent auction item winners will be announced.
6:00 A few words from Ron Drach. Ron is one of the founders of WWP and now sits on the board.
6:15 The check 4 Horsemen Charities will announce what was raised and present the check to WWP.
7:00 More music being played up to 11pm.


---
What does the day look like?

INCLUDED:
-Start the day with a Free Continental Breakfast. (9am)
-An event T-shirt
-Group Ride at 11:00 am
-Several Bands and Musicians (Blues and Rock (1pm start time)
-Drink Specials
-Special Event Menu
-That fuzzy feeling you get inside for making the world a better place!



But wait.... there's more!

PLUS:
-Giveaways*
-MANY gifts to raffle off (see below)
-50/50
-Chinese auctions
-Coupons to local businesses
-Event patch ($10 donation) & sewn on for free at Outback Leather *
-Pins *
-Wrist bands *
*limited quantities
---
Bands
that will be playing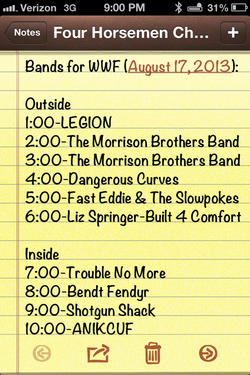 ---
Some of the items to be raffled and auctioned off. (subject to change)

- (3) $60.00 Gift Cards to Lufti's Spa and Salon

- Classic speaker system from Uniq Cycle Sounds

-Gift Card to Iron Bridge Wine Company

-Service from Delaney's Cycle Service

-$50 Gift Card to The Chamber Room in Laurel

-(2) $25.00 Gift Cards to Olde Town Bowie Grill

-$250 worth of car detailing

-(4) VIP Brewery Tour Passes, Heavy Seas Brewery

-$50.00 Gift Card to In Step Leather

-(2) $25 gift cards to Gin'a Cantina

- (1) Ravens Super Bowl cap signed by Morgan Cox

-Drum Head signed by all members of 3 Doors Down
- Items from Renegade Classics Annapolis
- Gift Certificate from 2nd Chance Saloon
-$150 gift card to Dakota Salon
-Gift Card to Cafe Mezzanotte Italian Cuisine
- A gift basket from Mission BBQ
-Gift card to Adventure Park USA
-(2) Beginner lessons / rentals, Liberty Resort
-$350 Rod and Reel set up
-(1) 1 night Stay at the Scotlaur Inn in PA




- Gift Certificates from Golden Corral
- Car services from Autostream Car Care
-Gift Card to Mutiny Pirate Bar and Island Grille
-L.E.D. Motorcycle Light Kit and installation
-Gift Card to Giant Foods
-A tour of Black Ankle Vineyards and tasting for 8.
(includes a wine tasting)
-Gift Certificate for a free Bed Liner up to $535.00
-A custom wrist cuff from Revamp Shack
-$75.00 Sport Clips Bath basket
-$20.00 Gift Card from Jewelry by Nicole



---
---
$25 single rider / $40 2 -up / $15 per person Event Only (no ride)
*Please note. In order to be guaranteed a t-shirt you must be registered and paid for no later that July 17th, 2013.
*Ticket prices may go up at any time. Register now to pay the above price.
Even if you don't ride this will be a great event for a great cause so please come on out and show your support!
---
---
REGISTER

---

Pre-Registration is no longer an option

but you can still buy your ticket at the door.

DONATE

---

Ways to Donate:

-We can take credit cards in person

-We can take cash and checks in person

-We can take donations online

-via our Paypal profile (button below)

-Donate Prizes for our raffle.

-If you own or manage a business and would

like to sponsor part of the event your

business name could go on the Event

T-shirt.




CONTACT US

---

Have a question? Want to volunteer or donate a prize? Please click below and let us know!









---
$100+ club families
(these names will appear on the back of the event t-shirt)
The Zander Family, Odenton, MD
Michael & Nicole Thomas, Ellicott City, MD
The Nemec Family, Woodstock, MD
The LaNigra Family, Exeter, NH
The Bilbrey Family, Tarpon Springs, FL
The Sines Family, Chase, MD

Mr. Brian Farrel of New Jersey
In memory of the T.J. Wilson
The Gallaher Family ,Columbia, MD
GK Construction, Highland, MD
The Gallaher Family, Tarpon Springs, FL

American Legion Riders Post 60
Andres Moseley NYL 443.732.0594
Marty & Cathy Yost, Columbia , MD
The Angelozzi Family, Ellicott City. MD
BDM Appraisals, Odenton, MD

Sponsors & Contributors
Want your business to be listed here with a link?
Ask us how.
---